Overview
Businesses need to be able to record both paid and unpaid breaks because of compliance and auditing purposes. This can be done in both the rostering and timesheet functionality, including Clock Me In and WorkZone. By default, when an employees record breaks in their timesheets, the break duration is automatically deducted from paid hours unless the business has created a rule to pay employees for all breaks. By enabling the paid break feature, employees will be able to record both paid and unpaid breaks in timesheets.
This feature applies to:
Businesses subscribed to a plan that includes Time And Attendance (usually Plus plan users).
Timesheets that use a start/finish time and not timesheets where units/hours are entered.
How to access the paid breaks setting
Log into your payroll.
Click on Payroll Settings.
Select Timesheets screen.
Select: Enable employees to include both paid and unpaid breaks in their timesheet (only relevant to timesheets with start/end times). checkbox. Once enabled, a sub-setting will display that allows employers to cap the maximum number of times that the employee will be paid for their break. For example, if the employer sets a cap of 20 minutes but the employee takes a break of 35 minutes, the first 20 minutes will be paid and the remaining 15 minutes will be treated as unpaid.
Click Save.
Rosters & paid and unpaid breaks
Log into your payroll.
Click on Rostering.
Select the required date range or personnel.
Click on the shift you want to view or edit.
A new Paid break checkbox is now available in shifts to configure whether break is paid or unpaid:
Multiple breaks can be added to a shift where some are unpaid and others are paid.
Click Add break and then for each break you can individually select which is paid and which is not.
Timesheets & paid and unpaid breaks
A new Paid break checkbox is now available in the timesheet grid so that employees and/or managers can configure whether break taken is paid or unpaid.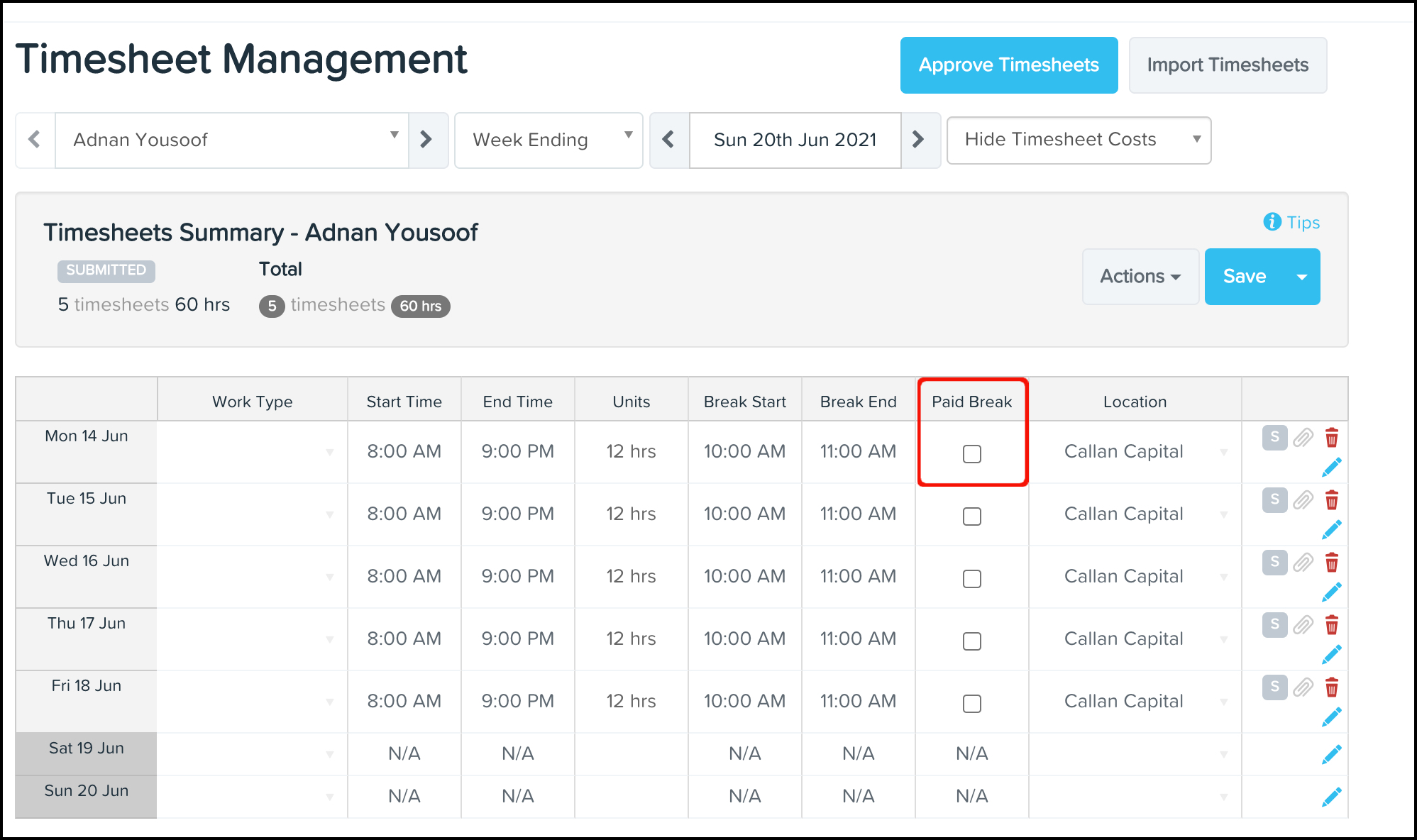 This functionality spreads across the following timesheet areas -
Importing timesheets from roster and custom file upload
Timesheets created via Clock Me In and WorkZone.
Timesheets created via employee portal
Timesheets created via manager dashboard
Example of Approve Timesheets screen showing the paid break label on timesheets: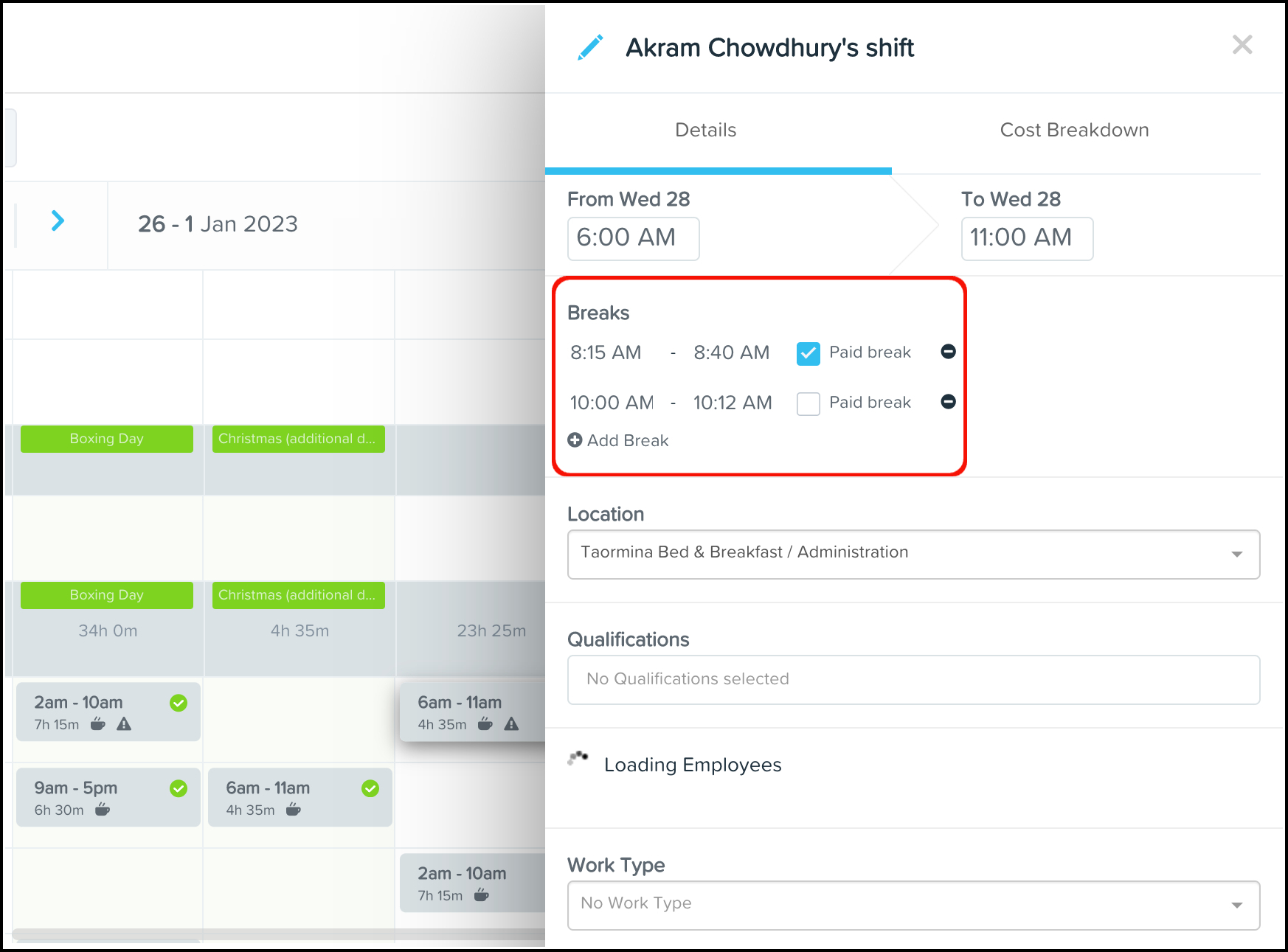 Rostering and paid and unpaid breaks
Log into your payroll.
Select Rostering from the side menu.
View the correct date range you require.
You can see paid breaks are now shown on the list.
Example of comparing timesheets to roster & picking up variance in paid breaks:
Paid break costing
When viewing the timesheet costing the paid breaks are shown and accounted for.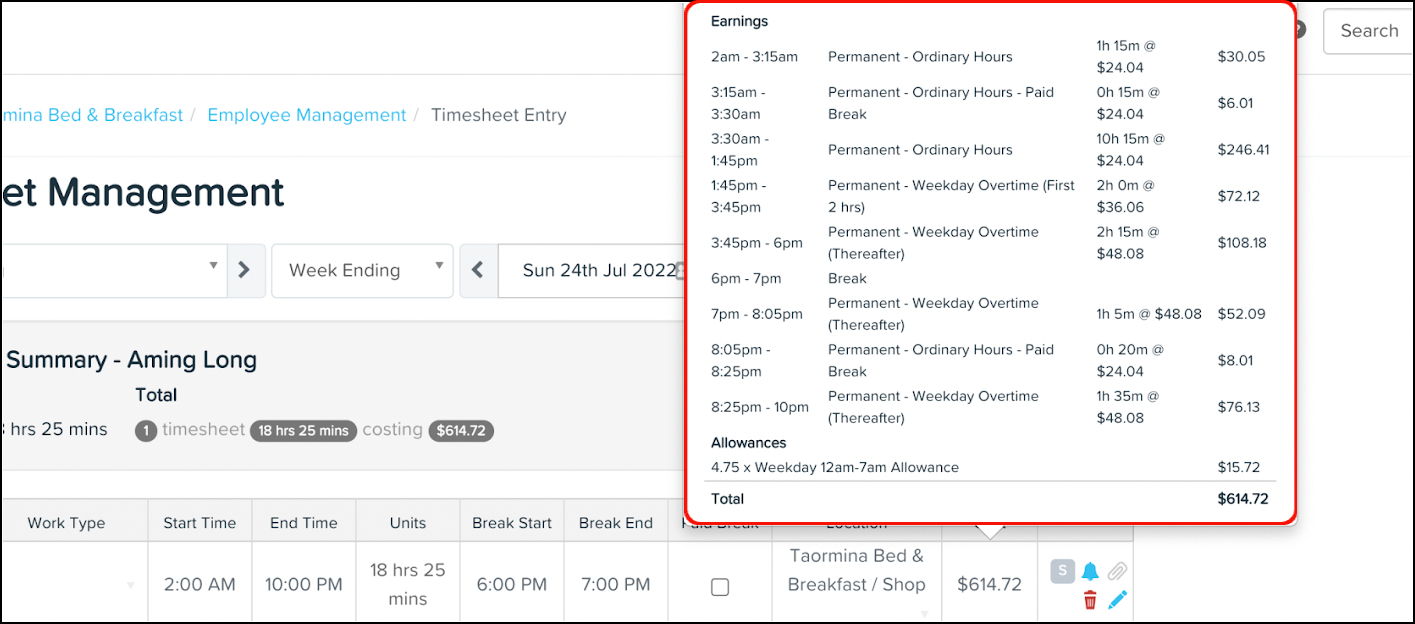 Similarly with rostering, any shift containing a paid break will be costed accordingly: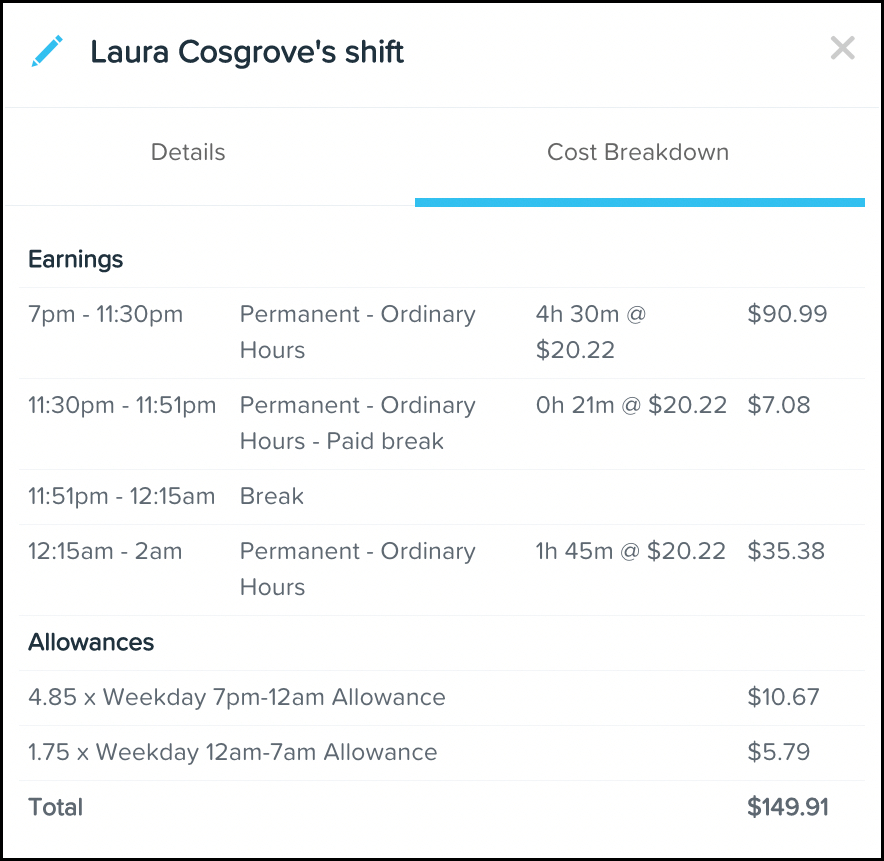 WorkZone with paid and unpaid breaks
In WorkZone employees are able to indicate whether a meal/rest break is to be paid if the paid break setting has been enabled at the business level.
Open WorkZone on your device
Tap Timesheets
Create new Timesheet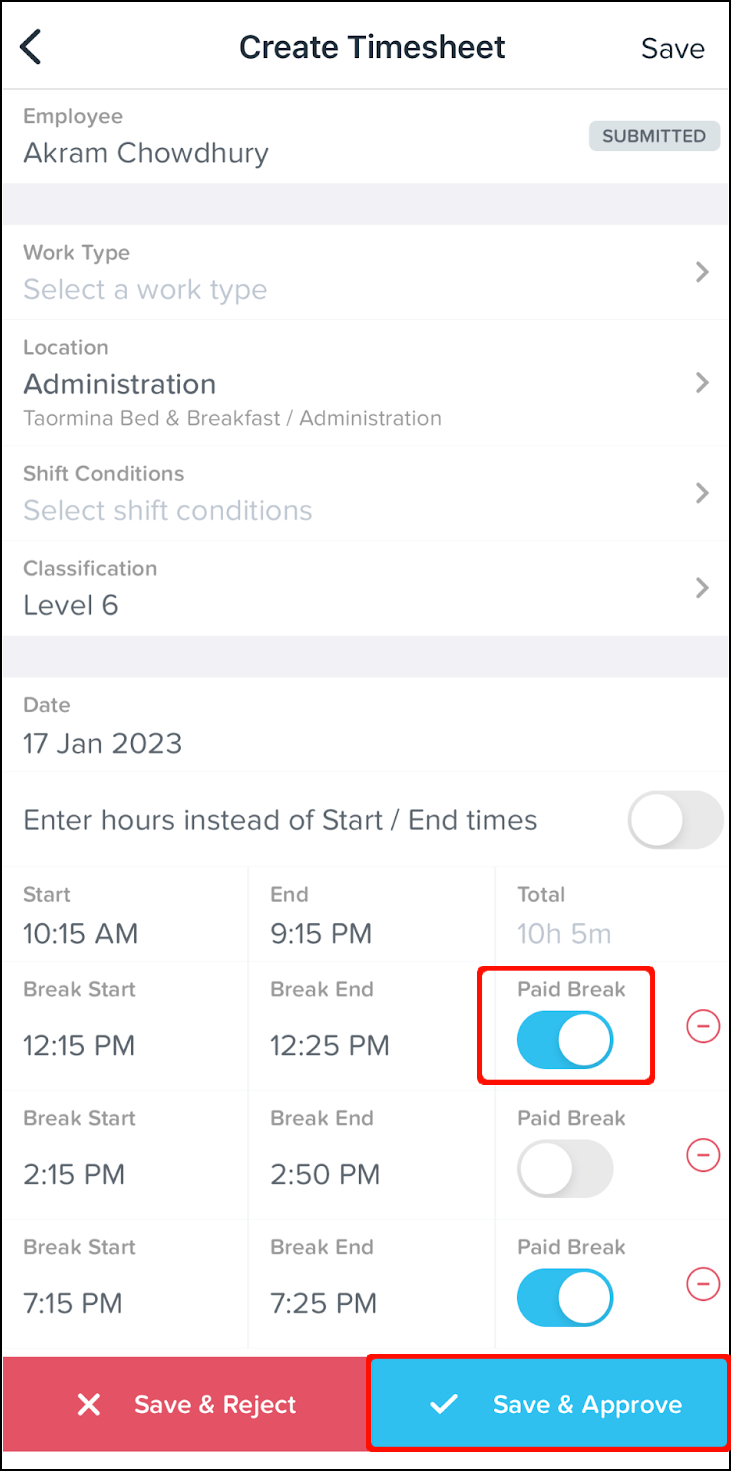 Or when clocking in/out for breaks.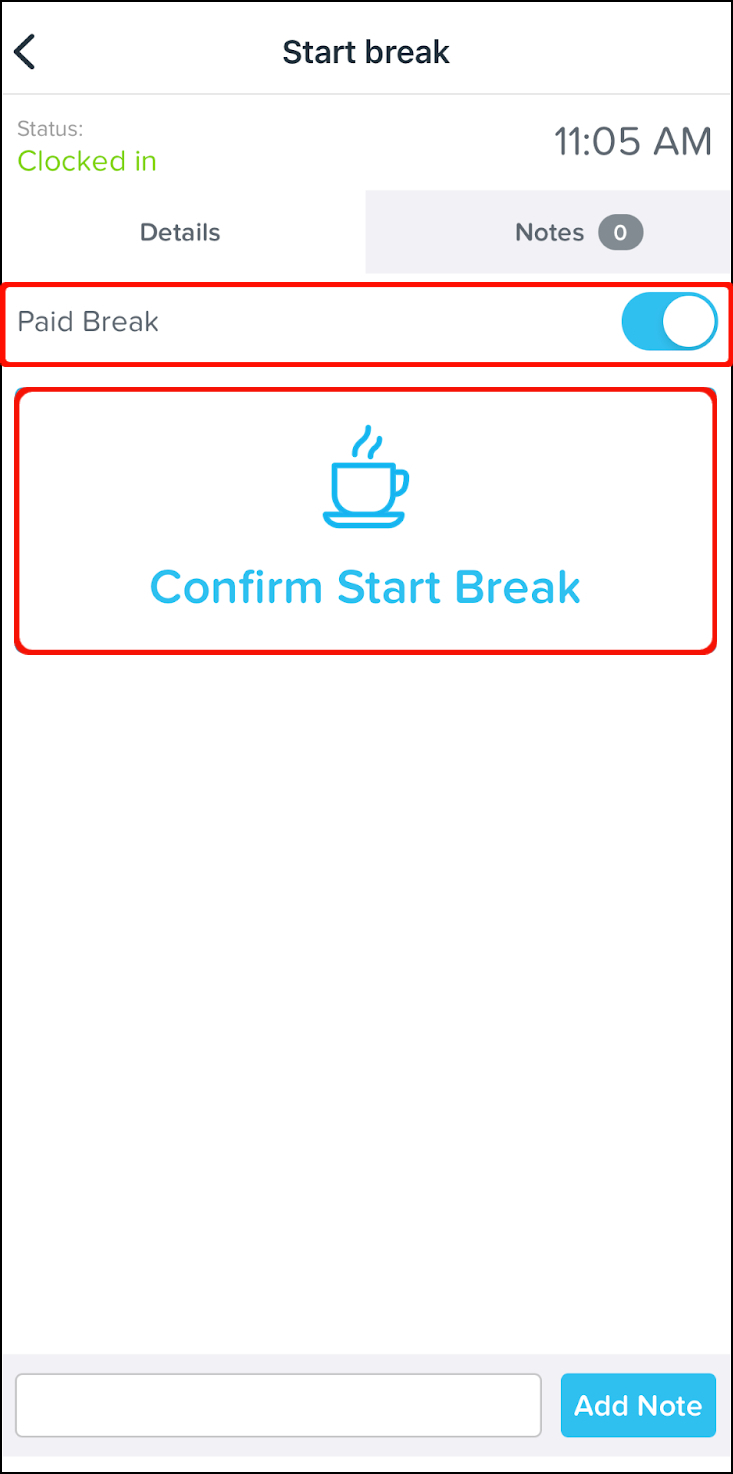 When you action a Timesheet, a managers can easily identify the timesheets that include paid breaks through the Paid break label.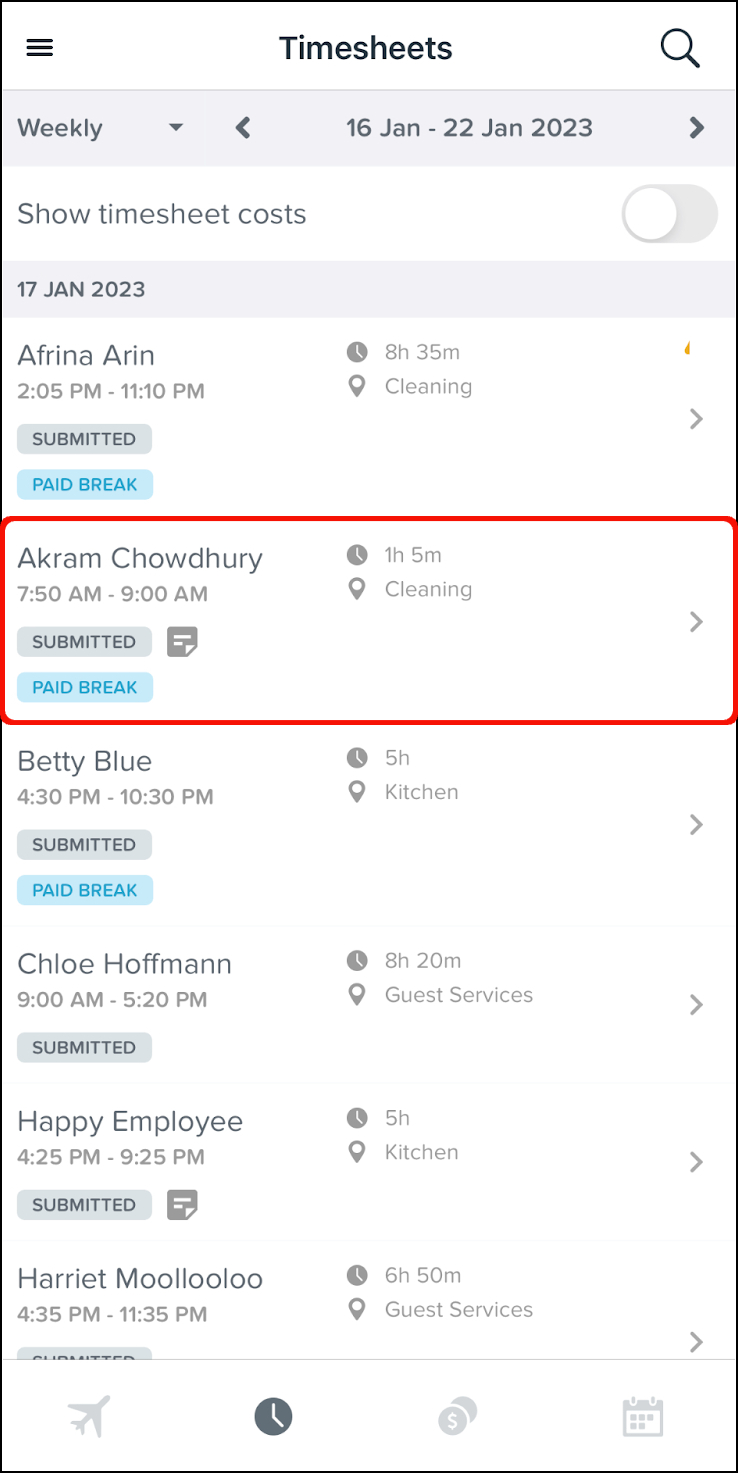 Managers can make any changes to the breaks recorded and whether they are to be paid or unpaid, ie update from an unpaid break to a paid break and vice versa, before they approve a timesheet.