Once the Registration Process for Payroll has been completed, some additional setup is required in Wiise, under the Payroll Setup window. This page explains how to configure the Setup fields for integration with the payroll system.
From the Wiise Home screen, click on 'Payroll' in the navigation bar, and then select 'Setup'.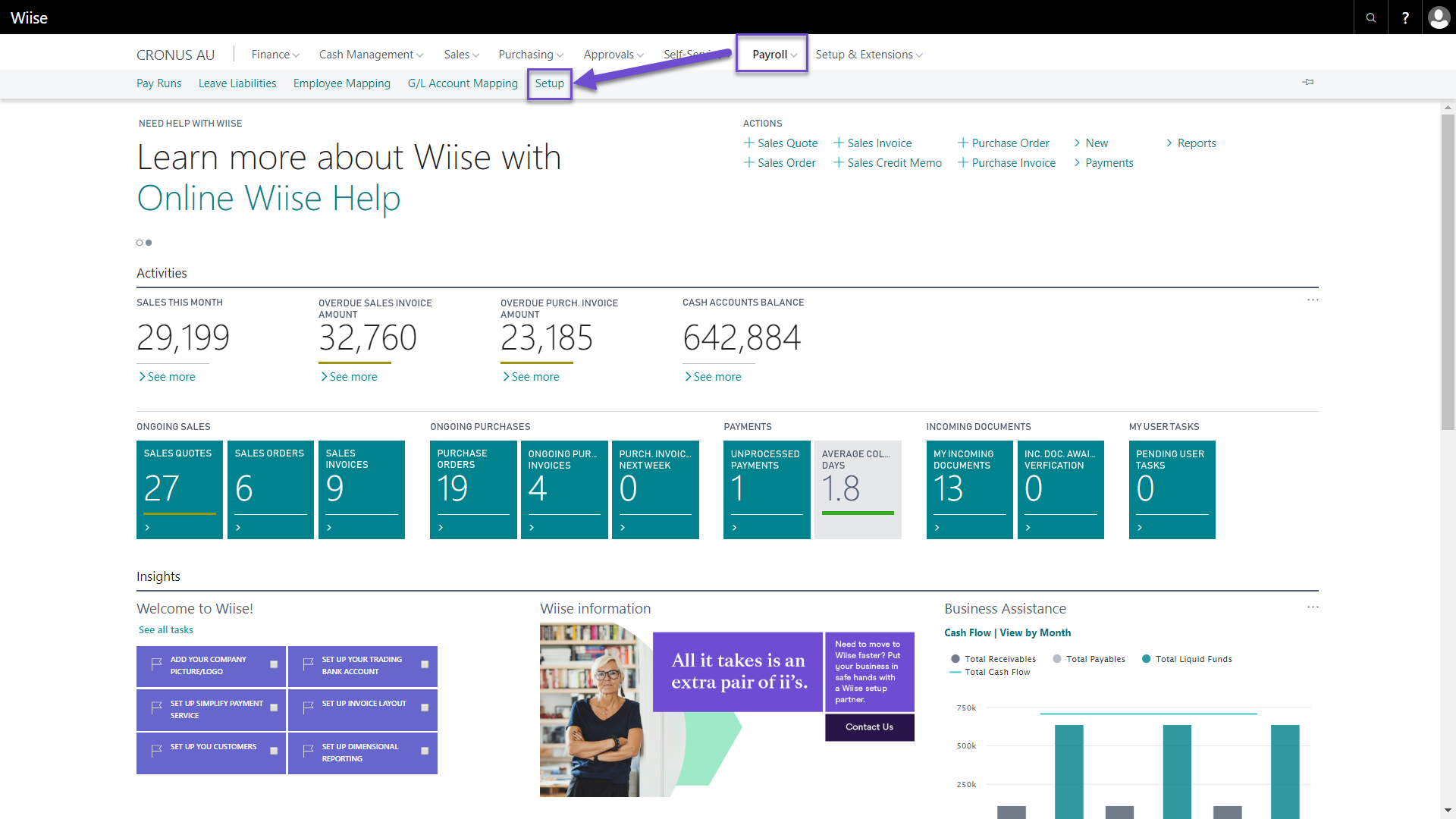 2. In Setup, you will need to select a few additional fields. To edit a field, select the Home tab in the Ribbon and click Edit.
Required Fields
Bank Account No. - the Bank Account in which your company's wages will be paid out of (i.e. Payroll Account). You will need to select the balancing bank account no. to be used in the last journal line, which offsets the sum of all the other journal lines.
Warn if Employee Without Dimensions - It is also recommended that the Warn if Employee Without Dimensions box is checked.
NOTE: Employee Dimensions are recommended in order to segment the Payroll Journal (i.e. breaking the Gross wages expense amount down by Department, Cost Centre, Location, etc).
Pre-populated fields
Journal Template - The Journal Template and Journal Batch will automatically be populated.
Journal Batch - The general journal batch is an intermediate storage area where journal lines are created based on a pay run, before posting into the general ledger. It is normally adequate to use the default values for the template and batch names. If you select a different batch name, then it will be automatically created.
You can now exit the Setup Page.
Next, it is recommended to Map the G/L Accounts and Employees between Wiise and Payroll.
If you have any comments/questions contact us on support@yourpayroll.com.au