This article provides guidelines on adjusting the Unpaid Pandemic Leave as it has changed from accruing hours to weeks. You may notice that some employees have excessive Unpaid pandemic leave since updating to the latest award update.
If you believe employees have been affected, you can follow the steps below to rectify the issue.
Determining potentially affected employees
To determine if employees in the business have been affected, and to specify which particular employees have incorrect Unpaid Pandemic Leave balances, you can run the Leave balances report, and filter it using the 'Unpaid Pandemic' leave category:

You'll then be able to view that report in the system, or download it to the following formats by clicking the 'Download' dropdown:
The 'Leave Balance' column of the report will allow you to easily identify which employees have more than the allowed cap (ie more than 2 weeks) for Unpaid Pandemic leave:
Adjusting the Unpaid Pandemic Leave balances
Create a new pay run using an ad hoc pay run OR make your adjustment in the next scheduled pay run
Open the employee's pay run record by clicking on their name
Select the "Action" button in the bottom right-hand corner of the screen and then select "Adjust Leave":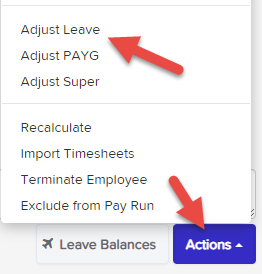 Select the Unpaid Pandemic leave. Remember, this is a leave "adjustment" so a negative adjustment will "take" leave (meaning reduce the leave balance), whilst a positive adjustment will add to the leave balance. In the example shown below the intention is to reduce the Unpaid Pandemic leave so a negative adjustment using the '-' symbol in front of the hours has been used:




If the 'Apply earnings rules' box is ticked, the leave adjustment will create a line in the earnings of the employee indicating that Unpaid Pandemic leave has been adjusted, which in this case you do not want, because you just want the leave balance to be adjusted, not the related earnings.
You can leave a note in the "Notes For This Pay run" section
The pay run can now be finalised and you can re-run the leave balances report to double-check the leave balances.
If you have any questions or feedback, please let us know via support@yourpayroll.com.au